Imagine Me Imagining YOu… Dream of me dreaming of you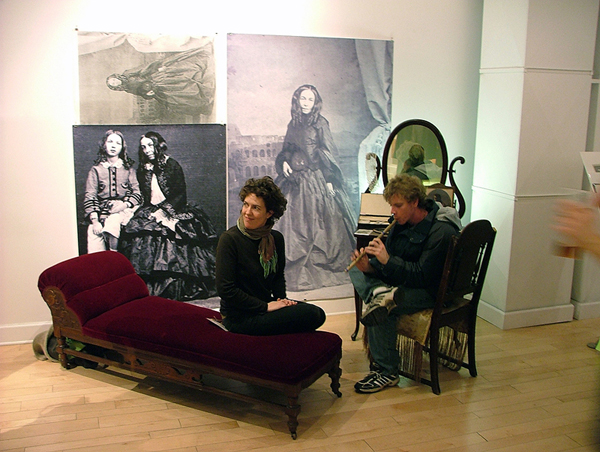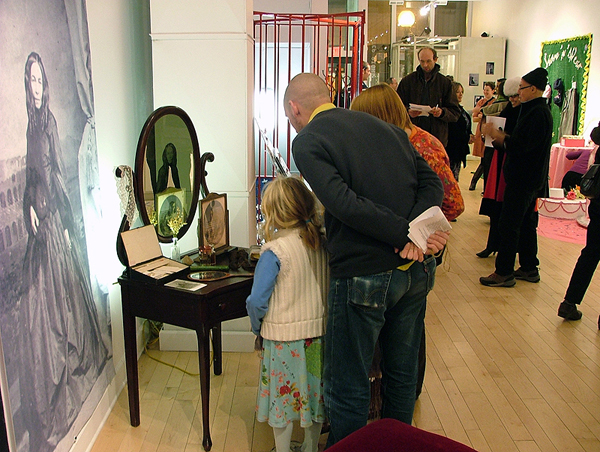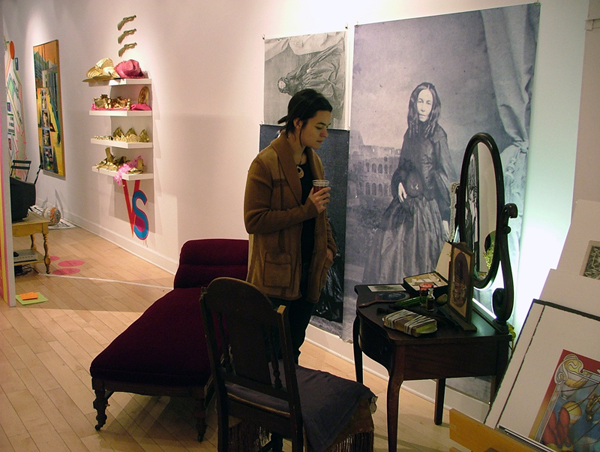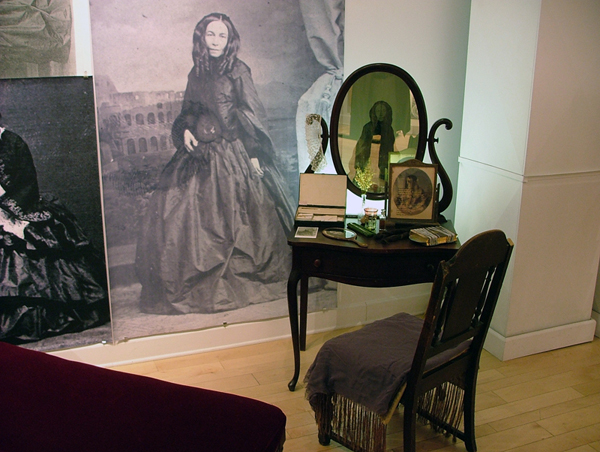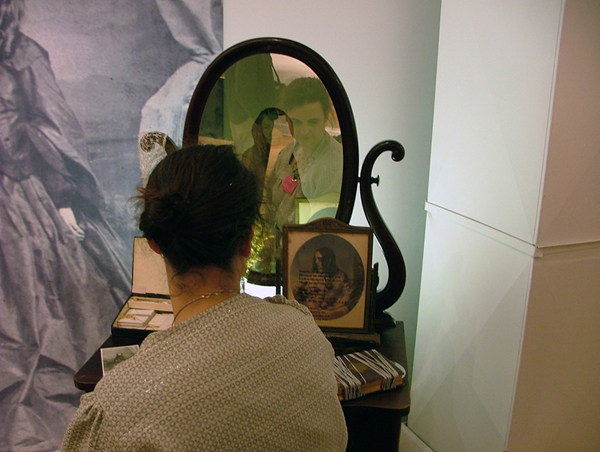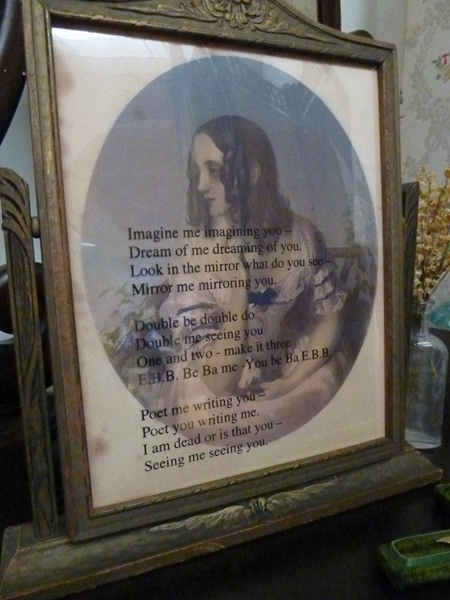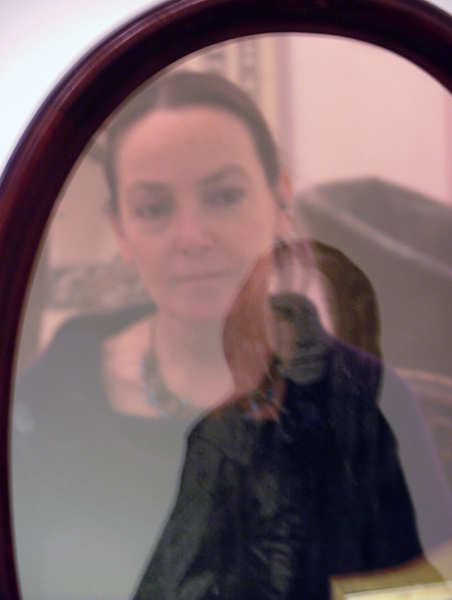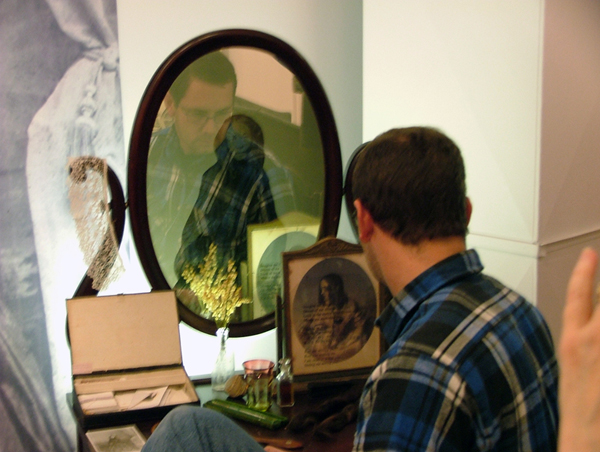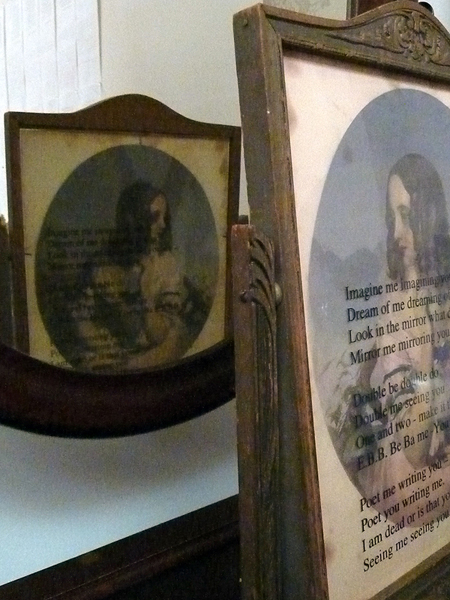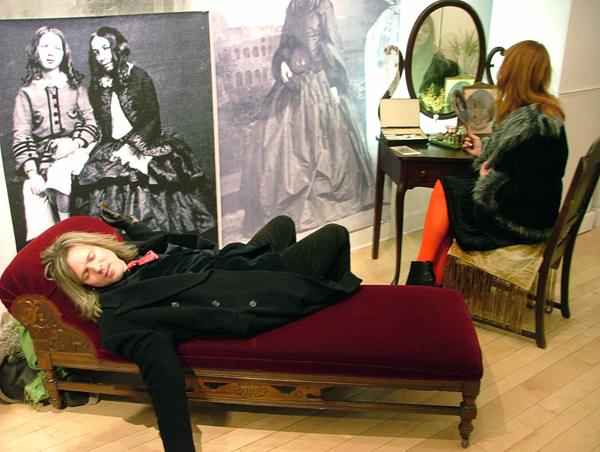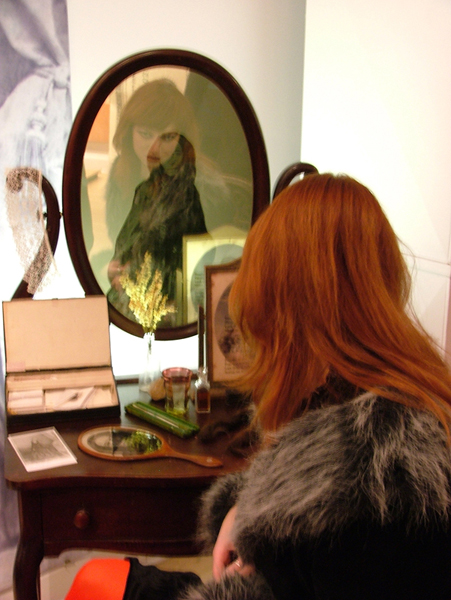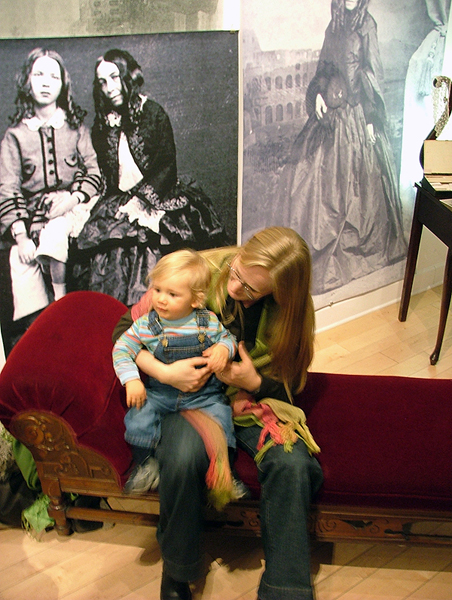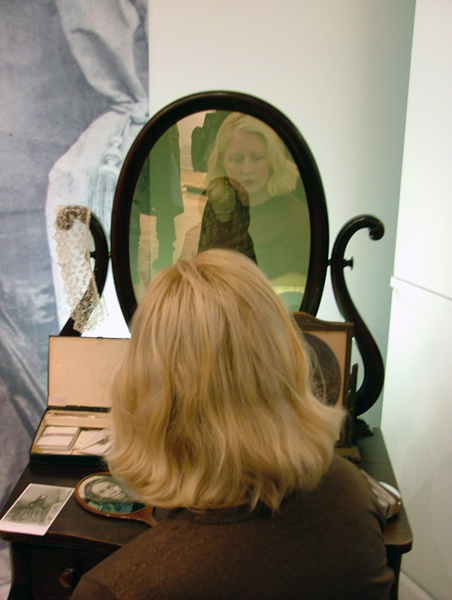 Interactive Installation Fundraiser for The Gallery Project, Ann Arbor, MI (Dec 2008 – Jan 2009)
I was asked to create an installation for The Gallery Project fundraiserin Ann Arbor, MI. Artists were asked to create interactive installations that visitors could have their pictures taken within. The title of my installation emerges from my engagement with poet Elizabeth Barrett Browning (1806—1861) and consisted of life size reproductions of Elizabeth, along with furniture, various art objects, found objects and relics. I believe that an installation creates resonance and expresses the sympathy that exists between things, ideas and disciplines.
The title words extended into an incantation (below) that I wrote as I was trying to encapsulate the installation in words. The incantation / poem was layered over a 19th century image of a young woman on both sides of an easel frame placed on the vanity. On the backside, the poem was written in reverse so that its reflection could be read in the mirror. (See the slide shows for images of this art object.)
Imagine me imagining you –

Dream of me dreaming of you.

Look in the mirror what do you see –

Mirror me mirroring you.

Double be double do

Double me seeing you

One and two - make it three

E.B.B. Be Ba me - You be Ba E.B.B.

Poet me writing you –

Poet you writing me.

I am dead or is that you –

Seeing me seeing you.
This installation emerged from The EBB Project that began in 1995 after I awoke from a mysterious dream about Elizabeth. You can see the 10 dream drawings linked to the visual art page and learn more about the project and process. And the site will show you where the project has taken me as the ideas emerging from the process have been expressed in many forms. And writing both creative and critical has been published.
As I created this installation, my research on EBB's 44 love sonnets, Sonnets from the Portuguese, was being contributed to The Works of Elizabeth Barrett Browning (2010, Pickering and Chatto). If I became stuck as I worked in that critical process I would say 'show me what you mean' and follow little cues. This work required careful, focused research but also listening to a creative inner oracle that I believe we all possess, and that is often drowned out by the surrounding cacophony. I believe more and more that our survival and wellbeing depends on us hearing. Don't get me wrong, it was me that was doing the work but there was an exhausting driving force that pushed relentlessly. My volume editor, Marjorie Stone, has also experienced this with EBB work. And there were times when I would hit the wall with an idea and it would disintegrate. In those moments I believe I was encountering the essence of art that finally refuses to be taken apart. And the experience of this timeless essence is between each viewer / reader and the artist / author. I felt her death in those moments and perhaps my own—because readers for many more hundreds of years will read more than I can imagine, though I have imagined much and I have pushed her 44 Love Sonnets into a more serious light than I think they have ever been seen in before.
So I am inviting you to come in and loll on the fainting couch, rest, dream for a bit listen for your "inward oracle," as EBB called it. Sit in the chair and look in the mirror at her reflection and your own. The poet always speaks for much more than herself and one's encounter with all art is shamanic. Stand by her life size image (she was about five feet tall). Enter for a moment and experience a bit of what remains. Capture the experience with a photograph, as you see Elizabeth Barrett Browning captured in 1860 with her son Robert Weidemann Barrett Browning (by Alessandri in Rome) or as she was captured alone on May 27, 1861 about a month before she died (by Bingham of Alessandri's studio in Rome). The images and objects vibrate with their past and present uses. Some have traveled with me to NY to be part of performances, some were mysteriously found, and others were created. Let them speak to you for a moment of their journey through time.