Barbara Neri began collecting and flattening cereal boxes around 1992. At the time such paper packaging could not be re-cycled and this troubled her. She eventually began reconstructing the flattened boxes with a glue gun. There were so many they took over her studio and the idea of hanging a net and tossing them inside came to her. The net was 14 feet square and bulging with hundreds of boxes and by then other food containers. One day she let them out of the net and a process laced with research and serendipity ensued that eventually resulted in Matter of Life & Death (Bolero).
RIGHT: Pre-performance Installation, (Michigan Gallery, Detroit, October 1995) Consisting of hundreds of empty food containers and boxes in a 14' x 14' net hanging above a chair. Viewers may sit in the chair and unlock and read a diary Neri kept while she created the work. The performance begins as one corner of the net is dropped and the boxes spill out forming a colorful cornucopia. As Neri arranges the boxes in a circle and performs various actions, Ravel's "Bolero" begins to play. The performance builds in intensity with the music. Neri is seen below right in performance for the Women's Caucus for Art Conference, Lyric Stage, Boston, February 1995 (photo, Julia Millis). Post performance Installation (below) at the Michigan Gallery, Oct. 1995 (Gallery photos, Ralph Neri). Read Dennis Nawroki's review of Neri's Detroit Performance.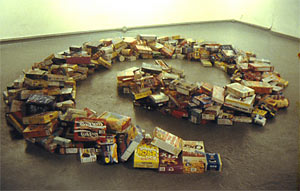 Neri described the motivations, research and creative process that produced Matter of Life & Death (Bolero) in an illustrated and end-noted article published and on the cover of the August 2006 ezine issue of Stimulus_respond (# 13 "Food," August 2006). Click here to download a copy.
In 2006 "Matter of Life & Death (Bolero)" was installed at WORK Gallery Ann Arbor, MI. See images of this Installation and read the artist statement Neri wrote to learn how this earlier work connects to her current work.